On November 19th 2019 Dr. Susanne Ganster the District Administrator of the Südwestpfalz and Miriam Heinrich the Managing Director of the Business Development Corporation south-west Palatinate (WFG) visited our company.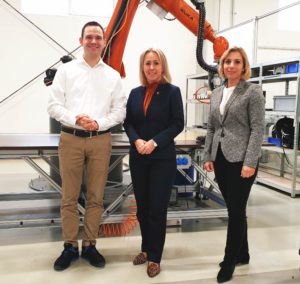 During a tour of the company, our managing director Dr. Brzeski explained the history of the company and presented our current products. Particular interest was shown in the adhesive tapes for 3D printing, for which we received an award at the Innovationspreis Rheinland-Pfalz 2019 in May of this year. Our shop floor, where the tapes are produced and new developments are driven forward, also impressed our guests.
As a young company, we were able to pass on our experience in setting up young, innovative companies in Germany and in particular in the southwest Palatinate. Together, we discussed the challenges and advantages of our region. Particularly noteworthy are the good development of the industrial areas and the networking in the region by institutions such as the Business Development Corporation.