Volker Wissing the Minister of Economic Affairs of Rhineland-Palatinate has introduced additional funding for recently established start-up companies. To illustrate the importance for the business location SAT.1 created a documentation.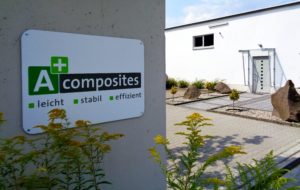 A+ Composites served as an example of a start-up's path from a small business to a growing company producing various products.
The managing director Dr.-Ing. Markus Brzeski gave some insights into the challenges of founding a company and also presented various products currently in production. The advantages of having a range of fiber-reinforced plastics has increasingly been recognized in different industries as useful characteristics. The possibility of individually adapting A+ products to a spectrum of application requirements, has been received particularly well.
For more information, visit: www.1730live.de/rheinland-pfalz-will-gruender-mehr-foerdern/