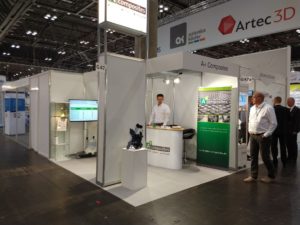 The orthopedic trade fair "OT World" began on May 15 in Leipzig. Having our own booth there, we presented our products with great success. We exhibited our spine relieving brace and our lower leg orthoses, reinforced with our new adhesive tape. Though the tape is still in development, our demonstration at the fair was positively received.

Visitors, including many orthopedic technicians, were greatly interested in our tape. At our booth, they forcefully tested the durability of our material, which included straining the leg-braces with significantly higher amounts of pressure than they would ordinarily be exposed to. The tape successfully withstood all endurance tests, often leading to astonished faces among the interested.
In addition, many exhibitors from the department for 3D printing were represented at the fair. Our tapes received their approval for being easily integrable into their production steps and for solving a major problem of 3D printing: lack of stability.
Our fiber reinforced sheet material also received remarkably positive feedback. Due to the fiber reinforcement, it is possible to cut large holes into the braces, significantly increasing the patients comfort. Many visitors requested offers on our sheets, hoping to start initial tests with them as soon as possible.
Overall, the fair was incredibly successful for our company. We were able to make new contacts and consider future cooperation with a number of businesses.